How can any sane human being accuse GEJ of wanting to divide Nigeria?
Posted by Afam Nnaji | 7 years ago | 3,430 times
President Jonathan signed the FOI bill and as such anyone can criticize, insult and abuse him, not so?
How can any sane human being accuse GEJ of wanting to divide Nigeria when 9 out of the 12 new universities he built are in the Northern part of Nigeria?

Nuhu Ribadu in spite of his many sacrifices for Nigeria as EFCC chair was on self imposed exile after escaping an assassination attempt in Nigeria before GEJ became president yet when GEJ became the president he assured him of his safety, encouraged him to return to Nigeria, all cases against him were dropped and he even contested the presidential election in 2011 under ACN as GEJ's opponent.

Is GEJ's simplicity being taken for granted?

For sure, he is not perfect and indeed made some mistakes. He is not decisive enough in my opinion concerning dealing with Boko Haram. But if we must effect a change the option must be a better option!!

I don't believe in change for the sake of it otherwise we can as well make Shekau the president since all we want is change.

Is GEJ not being fought by the few powerful elements in Nigerian because he is preventing them from pocketing Nigeria and Nigerians?

Look at what is happening in the agricultural sector today, farmers are being encouraged financially, being encouraged to form co-operative societies, being given grants and they are doing well.

YouWin program makes it possible for poor Nigerians without any financial backing to get as much as N10m grant from the FG to transform their business ideas and innovations into reality and successful businesses without needing to borrow from the banks or cut throat money lenders.

That I can drive for just 4hr 30mins to 5hrs from Lagos to Onitsha is enough proof that the expressway between these 2 places is much better than it was when people spent over 24hrs to cover the same distance and even as I type this serious work is still ongoing at different sections of the Lagos Ibadan expressway and Lagos Benin expressway.

Let me repeat this, based on performance GEJ has done enough to warrant doing a second term.

If an APC president had done all GEJ has done so far the mainstream media would have been used to project Nigeria as the best black nation on planet earth.

Any youth that believes that his future will be best served by a 73 yr old Nigerian isn't thinking right because in the 60s the likes of Gowon, Ojukwu were in their late 20s and early 30s when they became leaders and even went through a bitter war.

Fast forward to 2015 you see Nigerians in their 20s, 30s and 40s believing that their future will be best served by leaders in their 70s and 80s.
Readers Comments
0 comments
No comments yet. Be the first to post comment.
---
You may also like...
So, Okonji Iweala borrowed to pay federal workers, right? God bless her soul!!!
Until we begin to value every single Nigerian life in this country we will continue to run from pillar to post
Laziness and inferiority complex responsible for the attacks in South Africa.
Our leaders should stop destroying the Chinese spirit in Nigerians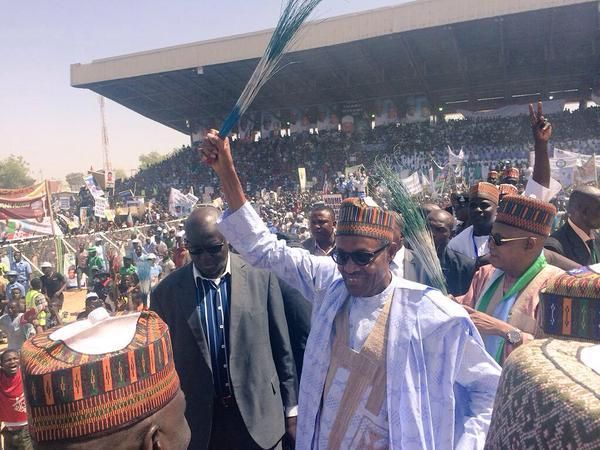 4 yrs or 8yrs is actually a short time in the life of a country like Nigeria so think deeply before justifying certain actions or policies
No one messed with Nigeria and Nigerians under General Sani Abacha