Rotational presidency or zoning is still a matter of federal character
Posted by Afam Nnaji | 2 years ago | 1,697 times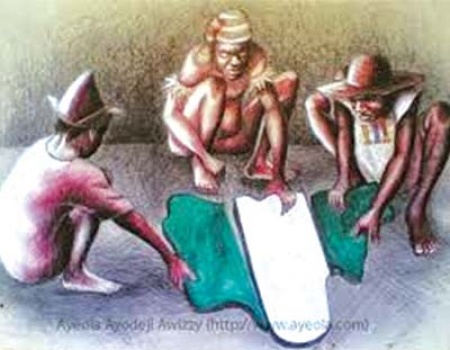 As much as I not happy that the cut off mark for a child who wrote a national exam with other children in Nigeria is say 10/200 which is an indictment on the political leaders of such states in Nigeria I believe in the principle of federal character and quota system.
What do you think would happen if say all the admissions are based on 100% merit where you have only Igbo people taking up say 90% of all the slots in all the universities across the country?
More love for Ndigbo by non Igbos?
Shell had to do away with English names of trainees that made it to the Shell Special Intensive Training Program that was run by Robert Gordon University, Aberdeen Scotland in Warri just to try to downplay ethnicity related complaints when people complained that there were a lot of Igbos in the program and that Shell didn't create the program for Igbo people.
This was a program that was based on merit and trainees were made to write at least 2 different tests.
As I no get English name dem comot Afamefuna print Chukwudi boldly for my ID card forgeting that both Afamefuna and Chukwudi na Igbo names so dem for kukuma leave my Afam for me.
If democracy is a game of numbers and we do away with zoning do you think all the Igbo votes can make any Igbo person the president of Nigeria in a free and fair election without any form of rigging?
The PDP came up with the concept of rotational presidency in 1999 which guaranteed that no geo political zone would be kept out of the presidency.
Unfortunately, that zoning formula was trashed in 2011 and some of us complained then and warned about some of the possible consequences of that action.
Even in the US, none of the major political parties would pick both the president and vice president candidates from the same state to the best of my knowledge. They will still apply a form of zoning so as to try to carry everyone or every group along.
A few weeks ago people were trying so hard to prove that Harris Kamala was black even though the whites are at least 67% of the population of the US and all the black votes cannot make any black man president of the US.
Harvard is a prestigious university and not too long ago a visiting professor Bhopal had this to say
---
A visiting professor at Harvard University has called for a racial quota system to ensure a sufficient number of minority students attend the top universities.
Kalwant Bhopal, a professor of education and social justice at the University of Birmingham in the United Kingdom, was recently given a post at Harvard's Graduate School of Education, while also contributing articles to the London School of Economics and Political Science. In her latest blog post, Bhopal said: "Universities should be held to account for their lack of representation of black and minority ethnic groups in senior decision-making roles through monitoring and reviewing their staff profiles on a regular basis."
Bhopal added: "Racism is alive and well and robustly shaping the educational experiences of black and minority ethnic students in the United Kingdom and the United States. Higher education must firstly acknowledge institutional racism and white privilege; a failure to acknowledge racism results in a failure to act upon it."
---
This same federal character/quota system denied me admission to read Industrial Chemistry in UNN because according to UNN though I had A1 in Chemistry and passed JAMB that my score was not up to the cut off mark for people from my state Enugu state even though UNN was in my state's domain.
Instead I was offered Mathematics Single Honors whatever that meant (maybe because I had A3 in Mathematics) which I rejected because I simply wanted something that had to do with Chemistry.
Surprisingly, the cut off marks for some states especially in the North for the same Industrial Chemistry were so low or better put people wey fail JAMB for those states go collect their admission letters from UNN.
At the end of the day I ended up at ESUT where I read Chemical Engineering with just about 2 or 3 weeks before the first semester exams. Thanks to Chief Jim Nwobodo that saw the need to create ASUTECH when he was governor of Anambra State.
That same ASUTECH gave birth to major universities in Enugu, Anambra and Ebonyi states today.
I was angry at the issue of quota system then. I see things a bit differently today.
A merit based society would help in an ideal world but a system that allows only the strongest to get all the opportunities would still create problems down the line so in the overall interest of society deliberate steps would be taken to try to carry everyone along.
There are people that still accuse Ndigbo of taking up all the positions in the civil service in the then Eastern region even though they were the majority ethnic group.
In the North, a political leader said that the North would rather hire foreigners than hire Igbo people even as they had a lot of Igbo people in the civil service in the North as at that time (before 1967).
Unfortunately, these principles have been thoroughly abused to the extent that 50 years after the civil war we are still seeing situations where 10/200 in a national exam is ok for certain states which means that nothing, absolutely nothing has been done by the political leaders of those states to improve on the quality of education in those states and at the end of the day the society suffers since there is every possibility of a child that got admitted with 10/200 becoming a commissioner, minister, governor or even the president of Nigeria.
Why should anyone be happy to be addressed as educationally disadvantaged?
Should Nigeria practice a form of democracy that will allow the majority to determine the fate of everyone else?
If yes, then it simply means that certain groups could be kept out of political power by other groups that agree to form alliances.
The North/South West alliance we see today in Nigeria as per APC is not new, right from when democracy returned to Nigeria after the civil war in 1979 we have seen North/South East, South West/North, North/South South, South South/North and now North/South West.
Any 4 geo political zones could agree to work together to grab the presidency in a totally free and fair election without any form of rigging.
Our problem in Nigeria is a multidimensional one and this could explain why our leaders fail to achieve much when they get elected in spite of promises they made during campaigns.
A former president of Nigeria promised to go on exile if his administration didn't complete the 2nd Niger Bridge, not so?
Even Obama went in as a charming handsome president of the US with dark hair and came out with grey hair everywhere after bombing and destroying Libya and later saying he regretted the action because they didn't make enough plans or arrangements to handle Libya, post Ghaddafi.
Readers Comments
0 comments
No comments yet. Be the first to post comment.
---
You may also like...
Beyond likes or dislikes for APC we should know when the dignity and pride of Nigeria are at stake
All Nigerians are either closet or genuinely confused tribalists
Abeg, car na luxury abi necessity?
For the Nigeria bashers - 2,300 Americans are reported missing every day
Distributed energy generation remains the solution to our power problems
Facebook groups membership is by choice