Most strict handlers in schools meant well even if things didn't add up then
Posted by Afam Nnaji | 2 years ago | 1,247 times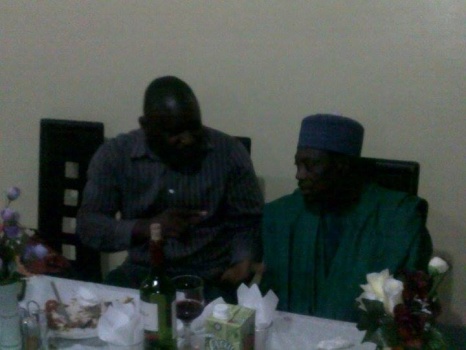 Sometimes you don't know why some people do what they do especially when they appear to be strict. Most times it is for the common good. Gen SM Dule (Rtd) as the second Commandant at Command Secondary School Abakaliki then a Lt Col in the Army had my expulsion letter written and called me into his office to write the name of my parents and address on the envelop. My offense? Just stubbornness ooo not that I did anything bad. He was new as he took over from late Lt Col EJS Ikioda. I wrote Late Major COI Nnaji on the envelop and wrote H2 Real Estate Uwani, Enugu as the address and handed it to him. He looked at it and asked me if I knew who the man was and that I should understand he wasn't joking with me. I told him he was my father. He asked me to wait and left his office (I guess he must have gone to check with the teachers or those in administration) and when he returned he tore the envelop with the letter inside and asked me to go without telling me why. I left his office and returned to the class thanking my dad for protecting me from his grave believing that was the end of the matter. Not until he called my name the next morning during the assembly and I found myself suspended in the air by 4 soldiers (not students ooo) did I realize that he didn't fully forgive and forget that yesterday. WOI then WOII Etim Idiong was given the task of delivering the strokes of the cane and I am sure my bum bum received between 40 and 48 strokes that morning and that was the end of the matter. About 8 years after that incident, in December 1996 Gen SM Dule as the Director General NYSC visited the NYSC orientation camp in Lagos with the then Minister of Sports, Chief Jim Nwobodo and after they addressed us I came to the front to greet him. Surprisingly, he called me Nnaji as soon as I was close enough for him to see me, he stretched out his hand for a handshake and just as I was shaking his outstretched hand he hugged me and told the Sports Minister 'he was my student at Command Secondary School Abakaliki, he is very intelligent but very very stubborn'. I was so happy seeing the man that helped to shape my life by his actions many years ago. 15 years after the encounter at the NYSC orientation camp in Lagos some of our old students in Lagos decided to host our former Commandant in Lagos and as one of the two pioneer set present we were on the high table and he took time to recount his experiences at CSSA and explained why he did what he did when he arrived CSSA. This man was a Physics major and even as the Commandant would come to our physics lab, listen to the Physics teacher and would tell the teacher to allow him explain the same thing in another way and his explanation often made sense and easier to understand. He reorganized the Education Corps in the Army and put in place the type of order he brought to Command Secondary School Abakaliiki when he was a Commandant. Life is indeed a teacher. If we spend enough time in it a lot of things would make sense. Ever wondered why some of the strictest teachers in your primary and secondary schools became the most missed teachers long after you must have finished from those schools? Obviously, they were strict for a reason. May we be alive long enough to understand or find out the reason for their actions and if we are lucky to see them face to face many years down the line may the encounter be a memorable one.
Readers Comments
0 comments
No comments yet. Be the first to post comment.
---
You may also like...
Why is Nigeria broke? The 2 major reasons

Expert technician that cannot correctly identify or diagnose a fault, is that one a technician?
What exactly do you want the Enugu state governor to do that he hasn't done concerning the armed Fulani herdsmen attacks?
The water crisis in Enugu state - any end in sight?
All well meaning Nigerians will definitely want to help the president to succeed but the question remains - how?
Buhari seeks emergency powers to tackle economy