There you have it - same sex marriage is now legal nationwide in the US
Posted by Afam Nnaji | 7 years ago | 3,503 times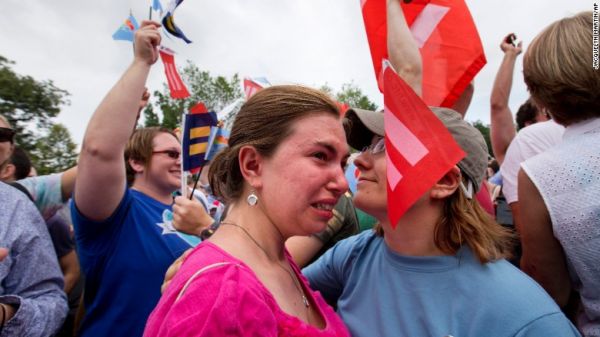 Get ready, they will bring it down here and force it on the church so your bible will be amended accordingly, after all na human being write am and na human beings go amend am.
What will Nigerian (or African) Christians say when Christianity makes same sex marriage ok before man and God?
Yeye dey small. Na all those Africans wey dey see oyinbo people as superior human beings wey sabi God pass our fore fathers I dey pity.
Wetin for make Igbo traditional religion, Yoruba traditional religion, Fulani traditional religion tell you say e dey ok for man to marry man or for woman to marry woman?
----------------------------------------------------
Supreme Court rules in favor of same-sex marriage nationwide
By Ariane de Vogue and Jeremy Diamond, CNN
Updated 1909 GMT (0209 HKT) June 26, 2015
Washington (CNN)In a landmark opinion, a divided Supreme Court ruled Friday that states cannot ban same-sex marriage, establishing a new civil right and handing gay rights advocates a victory that until very recently would have seemed unthinkable.
In a 5-4 ruling, Justice Anthony Kennedy wrote for the majority with the four liberal justices. Each of the four conservative justices wrote their own dissent.
Nearly 46 years to the day after a riot at New York's Stonewall Inn ushered in the modern gay rights movement, the decision could settle one of the major civil rights fights of this era. The language of Kennedy's opinion spoke eloquently of the most fundamental values of family, love and liberty.
READ: The Supreme Court's full decision
"No union is more profound than marriage, for it embodies the highest ideals of love, fidelity, devotion, sacrifice and family," Kennedy wrote. "In forming a marital union, two people become something greater than they once were."
'Equal dignity in the eyes of the law'
"Their hope," Kennedy wrote, "is not to be condemned to live in loneliness, excluded from one of civilization's oldest institutions. They ask for equal dignity in the eyes of the law. The Constitution grants them that right."
Kennedy has written the opinion in significant gay rights cases and when he uttered the key sentence that same-sex couples should be able to exercise the right to marry in all states, people in the Court's public gallery broke into smiles and some wiped tears from their eyes.
Reaction: People soak up history from coast to coast
In a dissent, Justice Antonin Scalia blasted the Court's "threat to American democracy."
"The substance of today's decree is not of immense personal importance to me," he wrote. "But what really astounds is the hubris reflected in today's judicial Putsch."
Chief Justice John Roberts wrote that the decision had "nothing to do with the Constitution."
READ: The best lines from Scalia's marriage dissent and Kennedy's decision
"If you are among the many Americans—of whatever sexual orientation—who favor expanding same-sex marriage, by all means celebrate today's decision. Celebrate the achievement of a desired goal," he wrote. "Celebrate the opportunity for a new expression of commitment to a partner. Celebrate the availability of new benefits. But do not celebrate the Constitution. It had nothing to do with it."
The U.S. is now the 21st country to legalize same-sex marriage nationwide, including territories. Married same-sex couples will now enjoy the same legal rights and benefits as married heterosexual couples nationwide and will be recognized on official documents such as birth and death certificates.
Hundreds of same-sex marriage supporters flooded the plaza and sidewalk in front of the Court to celebrate the ruling, proudly waving rainbow flags and banners with the Human Rights Campaign's equal sign, which have come to represent the gay rights movement. In an emotional moment, the supporters sang the National Anthem, clapping wildly after singing that the U.S. is "the land of the free."
WATCH: Obama calls gay marriage case plaintiff Jim Obergefell
After the ruling, President Barack Obama called Jim Obergefell, the lead plaintiff in the case, while he and his supporters celebrated the ruling outside the court.
Obama: 'Congratulations'
"I just wanted to say congratulations," Obama said as CNN broadcast his warm words to Obergefell over speakerphone. He added: "Your leadership on this has changed the country."
Readers Comments
0 comments
No comments yet. Be the first to post comment.
---
You may also like...
Alleged 'deportation' of Igbos by Lagos state government - Beyond ethnic bigotry and politics
The delay in appointing ministers and forming a proper government is proof that President Buhari wants to be his own man and not a tool to be used by APC
We must blame our own elected leaders that are Igbos before blaming non Igbos for our problems in Igbo land and even in Nigeria
You cannot successfully fight corruption when security votes remain an integral part of our political system
Still on Gen Buhari's certificate matter
Selling the zoo, Ngwo park and burial ground in Enugu state to property developers remains a shame