I agree with Fr Mbaka on this issue of Biafra and the need to stop sending our unarmed young ones out to be shot
Posted by Afam Nnaji on January 31, 2017 | 814 Views

Any Igbo man that encourages and supports the idea of our unarmed youths being gunned down by security agents while protesting or marching for Biafra is a very wicked person.

Without the involvement of the political class Biafra project is dead on arrival. Only a thoroughly ignorant person will argue otherwise because even the Biafra that existed between 1967 and 1970 became possible because it was declared by the political class in Nigerians political system.
Watch Fr Mbaka's video as posted on Facebook here

Ojukwu represented at the declaration of Biafra in 1967 what all the 9 state governors (5 SE & 4 SS) represent today in the then Eastern region.

Not understanding the political dynamics and realities that made it possible for Ojukwu to declare Biafra when he did and was taken serious is one of the reasons why some of our people will hide in their rooms and be cheering our young ones to go and march for Biafra even if it meant being shot at by security agents.

If our unarmed youths are killed in time of peace who then will fight for us in time of war?
Share on
---
You may also like...
Ndigbo are into tribal politics statement is mere...
Critics are nation builders whereas praise singers are...
Does President Buhari really own a house in...
President Buhari returns to Nigeria
It's cheaper to import petrol than refine locally...
Further crash in crude oil price in our...
Nigerians should take it easy on the Sports...
Need to tell your loved ones about your...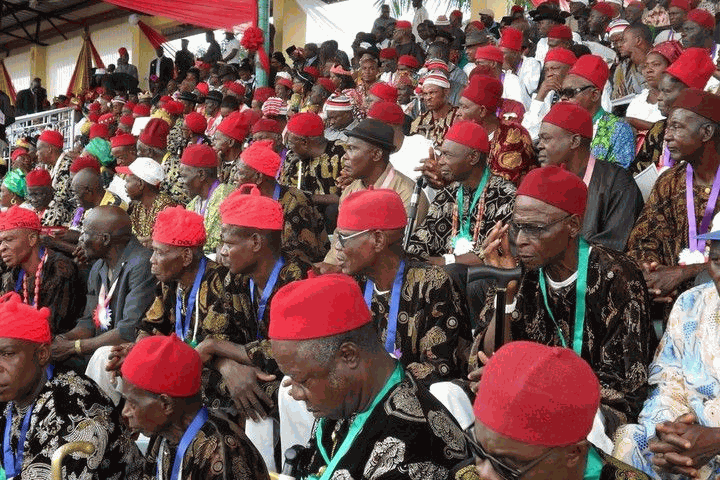 Ndigbo should mind their business and let their...